Manufacturing Processes
Eco-Friendly Products
Eco-friendly products promote green living that help conserve energy, and prevent air, water, and noise pollution. QRRI's products recycle over 4.0 million scrap car and truck tires every year. We use state of the art vertically integrated recycling technology to produce rubber crumb, which is used to manufacture a variety of rubber mats for a wide range of market segments.
Whether you are using our matting production in equine and/or sports and fitness applications, you'll find all our recycled tire-based products throughout our international network of distributors.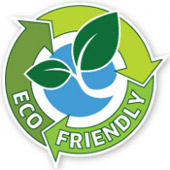 Re-Vulcanization
QRRI uses a manufacturing process for Equine and Fitness matting called re-vulcanization. There are a number of reasons why re-vulcanized rubber is superior to bonded crumb rubber when it comes to equine and fitness flooring.
Here are 6 leading reasons why you should choose re-vulcanized rubber flooring for your rubber flooring needs:
Polyurethane bonded mats can absorb animal fluids while re-vulcanized mats do not absorb moisture.
Animal fluids can cause the polyurethane binder to deteriorate creating wear spots as the crumb flakes away, re-vulcanized matting does not have this problem.
Animal fluids trapped in the bonded crumb mats can cause bacteria and foul odors.
Re-vulcanized rubber flooring is more durable and more resilient than polyurethane bonded rubber flooring
Re-vulcanized mats will not curl, cold flow or change shape like polyurethane bonded mats can when under the temperatures and pressures of normal use.
Re-vulcanized mats are made by chemically bonding the rubber under extreme pressure and heat to create the most durable and dense mat possible, while polyurethane bonded mats are glued and pressed under moderate pressure.
Masticated Rubber
Our masticated rubber sheets and rolls are fully cured and fiber reinforced from tire manufacturing by-products, including uncured rubber and nylon fiber. This unique process translates into higher tensile strength, tear strength, resilience, wear characteristics, ozone resistance, low temperature resistance, and ultimately, durability. Compare our 100% vulcanized masticated against other "glued" rubber products. You can easily see and feel the difference.
Our customers use our masticated rubber sheets and rolls for a variety of applications including automotive, heavy truck, and horse trailer applications.
QRRI masticated rubber products will consistently do what you intend it to do, far better and longer than any other recycled rubber product. Consistency and durability translates directly to your bottom line.
Molded Rubber
Rubber molding is a molding process that produces a useable rubber product. Rubber products are made from uncured rubber or elastomers. An elastomer is any material with sufficient resilience or memory for returning to its original shape. Rubber and elastomers can be derived from various types of rubber, both natural and synthetic, through a highly controlled chemical process.
Rubber molding creates molded rubber products by pressing a block of rubber into a rubber molding metal cavity. The rubber is then exposed to heat, activating a chemical reaction. While there are variations in specific methods, all rubber manufacturers use heat and pressure to form molded rubber products.
The three most common methods are:
Rubber injection molding
Compression molding
Transfer molding
Rotocuring
Rotocuring (short for Rotary Curing Press) is used for curing rubber sheeting with or without textile reinforcement, rubberized fabrics, and light conveyor belting. In addition, large quantities of flooring materials are produced with the use of rotocuring.
The rotocure machine consists of a large, steam heated, revolving steel drum, which is partly encompassed by an endless steel band.
Calendared rubber material is placed between the drum and steel band at the lower conducting roller. With aid of a tensioning pulley, the band is strained and provides pressure between the band and the drum. The linear speed of the drum can vary from 6ft to 600ft of cured material per hour, all depending the material's thickness and rate of vulcanization.
Waterjet Laser Cutting
Waterjets follow the same principle of using high pressure water focused into a beam by a nozzle. Most machines accomplish this by first running the water through a high pressure pump. There are two types of pumps used to create this high pressure; an intensifier pump and a direct drive or crankshaft pump. A direct drive pump forces water through high pressure tubing using plungers attached to a crankshaft. An intensifier pump creates pressure by using hydraulic oil to move a piston forcing the water through a tiny hole. The water then travels along the high-pressure tubing to the nozzle of the waterjet. In the nozzle, the water is focused into a thin beam by a jewel orifice. This beam of water is ejected from the nozzle, cutting through the material by spraying it with the jet of high-speed water.
An important benefit of the waterjet is the ability to cut material without interfering with its inherent structure, as there is no heat-affected zone. Minimizing the effects of heat allows materials, such as rubber, to be cut without harming or changing intrinsic properties.
Water jet cutters are also capable of producing intricate cuts in material. With specialized software and 3-D machining heads, complex shapes can be produced.