INTERLOCKING TILES & MATS
QRRI FLEXGARD® Interlocking Flooring products can be configured to a wide variety of layouts. Easily create a new floor from scratch, or add to existing floor setups for expanded coverage. Each tile interlocks on all four sides, enabling quick and simple installation. They are equipped with a textured surface finish to increase traction, reducing the risk of slip and fall.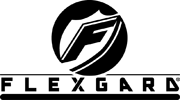 PUNTER® TOP INTERLOCKING TILE
QRRI FLEXGARD® Punter® Top Interlocking Tile is a highly durable, all-rubber flooring solution. The proprietary Punter® Top surface finish provides excellent traction, while the FLEXGARD® 100% rubber material absorbs shock and impact. The tiles have a wide rib finish on the back, allowing better air flow. Increased air circulation reduces condensation buildup; a common issue that can lead to unhygienic conditions.
Features
100% Recycled FLEXGARD® Rubber
Water-Jet Precision Cut for Exact Fit
Non-Slip Surface
Superior Impact Protection
Uses
School Gyms
Horse Barns
Ice Rinks
Wash Rack Areas
Baseball Dugouts
Weight Rooms
Tack Rooms
Fitness Areas
Multipurpose Areas
Cardio Decks
Horse Trailers
Locker Rooms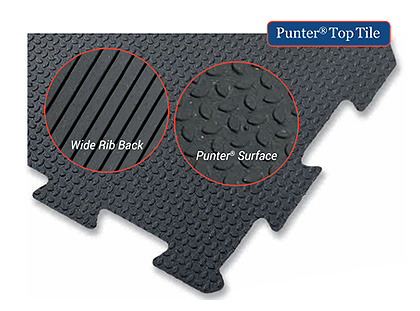 | Item ID | Size | Thickness | Weight |
| --- | --- | --- | --- |
| DRV4-24F4 | 2' x 2' | 3/4" | 17 lbs |
Tru-Lite® Interlocking Foam Mat
QRRI FLEXGARD® Tru-Lite® Interlocking Mat is a versatile flooring option suited for a variety of applications. Tru-Lite® mats are fabricated from EVA (Ethylene Vinyl Acetate); a closed-cell foam that is durable and high density. EVA is a resilient yet lightweight material, making product transportation and storage easier and less costly. The surface finish is an unobtrusive, slightly textured pattern which increases traction and improves slip resistance. Tru-Lite® Interlocking Mat can be used to create a clean, quiet, and soft workout area for any floor or gym. It can also be used as a portable stall mat for convenience. Give your horses a safe, comfortable environment and save on cost and effort with Tru-Lite® Interlocking Mat.
Features
Non-toxic
Waterproof
Anti-Fatigue
Absorbs Shock
Lightweight
Easy to Clean & Install
Uses
Temporary stall mats
Gyms/Dojos
Exercise Areas
Yoga Studios
Temporary Trailer Mats
Daycares
Fitness Areas
Multipurpose Areas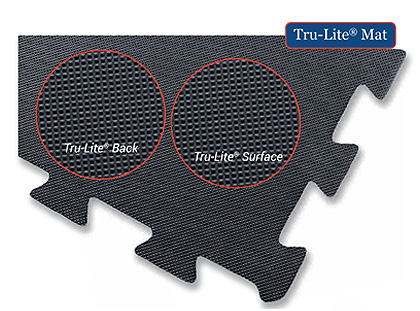 | Item ID | Size | Thickness | Weight |
| --- | --- | --- | --- |
| TRM-TRU-LITE | 3' x 4' | 7/8" | 17 lbs |