Punter® Top Interlocking Tile
QRRI's FLEXGARD® 2'x2' Punter® Top Interlocking Tiles are a tough, durable, allrubber solution for expanding and enhancing your current floor configurations. The interlocking edges allow these tiles to form an endless combination of layouts. All tiles interlock on all 4 sides, enabling fast and simple assembly. The tiles have a wide rib underside, allowing air to circulate beneath the tile to reduce condensation buildup that leads to mold and mildew. The Punter® Top surface prevents costly slips and falls, while the FLEXGARD® rubber provides excellent impact and shock absorption.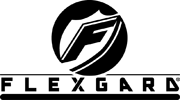 Features
100% recycled FLEXGARD® rubber
Water-jet precision cut for exact fit
Non-slip surface
Superior impact protection
3/4" Thickness
Uses
Fitness areas
Weight rooms
Ice Rinks
Locker rooms
Cardio decks
Wash rack areas
Tack rooms
Horse barns
Horse trailers
School gyms
Baseball dugouts
Multipurpose areas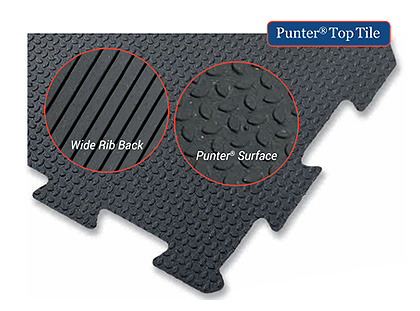 | Color | Size | Thickness | Weight | Item ID |
| --- | --- | --- | --- | --- |
| Black | 2' x 2' | 3/4" | 17 lbs | DRV4-24F4 |
Tru-Lite® Interlocking Foam Mat
QRRI's Tru-lite® Interlocking Mats are a versatile flooring solution, suitable for multiple uses. These mats are made of high density, durable, closed-cell EVA (Ethylene Vinyl Acetate) foam. EVA is a strong yet lightweight material, making it easier and less costly to transport and store. All mats interlock on all 4 sides, enabling fast and simple installation. The slightly textured surface improves slip resistance. Create a clean, quiet, and soft workout area for any floor or gym. Tru-lite® Interlocking Flooring can conveniently also be used as portable stall mats. Give your horses safe, comfortable flooring while saving on assembly time and effort.
Features
Non-toxic
Waterproof
Anti-fatigue
Absorbs shock
Lightweight
Easy to clean & install
Uses
Temporary stall mats
Multipurpose areas
Gyms
Temporary trailer mats
Exercise areas
Dojos
Fitness areas
Yoga studios
Daycares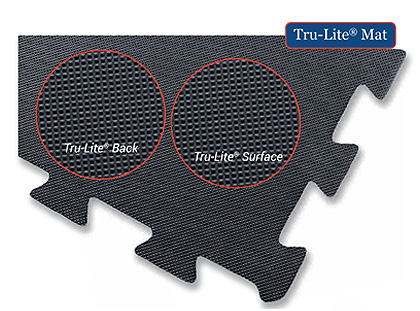 | Color | Size | Thickness | Weight | Item ID |
| --- | --- | --- | --- | --- |
| Black | 3' x 4' | 7/8" | 17 lbs | TRM-TRU-LITE |