FLEXGARD® RUBBER WALL LINERS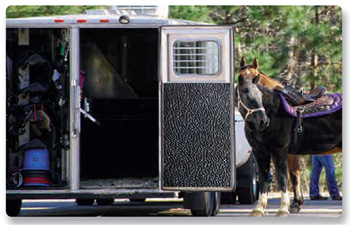 QRRI FLEXGARD® Rubber Wall Lining Products are designed to protect animals and trailer interiors from damage during transit and loading/unloading. Wall Liners absorb shock and cushion impact, ensuring a safe ride for your animals. They also insulate from outdoor elements and temperatures. QRRI provides the following Rubber Wall Liner products: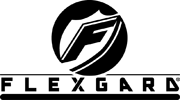 PEBBLE RUBBER WALL LINER
One of the best liners on the market and the most heavy-duty of QRRI wall liner products. Made of 100% rubber for excellent flexibility and durability. Comes in an attractive micro-pebble surface finish to add a distinctive look to your trailer.
FEATURES
100% FLEXGARD® Rubber
Highly Flexible
Unique Micro-Pebble Finish
Flat Back
Durable In All Seasons
Heavy Duty
Uses
Horse Trailer Walls
Horse Stall Walls
Utility Trailer Walls
Auto-Trailer Walls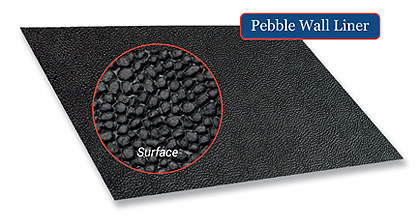 | Item ID | Size | Thickness | Weight |
| --- | --- | --- | --- |
| RS04848050PF | 48" x 150' | 3/16" | 295 lbs |
RIVER ROCK & RIBBED RUBBER WALL LINER
These liners are made from high-quality QRRI FLEXGARD® Masticated Rubber. FLEXGARD® manufactures masticated rubber from recycled tire material, resulting in economical and environmentally-friendly products that provide the same reliable FLEXGARD® performance. Masticated Wall Liners are additionally fiber-reinforced and fully re-vulcanized for optimal durability in all weather conditions. Products are available in custom thicknesses, widths, and lengths.
Features
Flexible Up To -40°F
Durable In All Seasons
Does Not Expand Or Contract
Fully Re-vulcanized
Meets Toughest Specifications
Fiber-Reinforced
Uses
Horse Trailer Walls
Horse Stall Walls
Utility Trailer Walls
Auto-Trailer Walls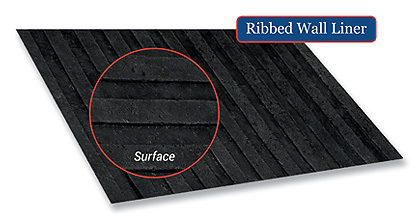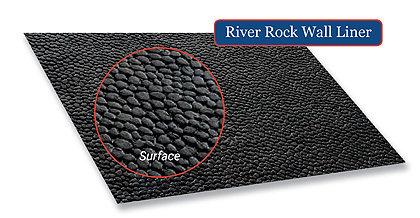 | Item ID | Size | Thickness | Weight |
| --- | --- | --- | --- |
| IR914-048-80C018050 | 48" x 50' | 1/8" | 166 lbs |
| IR912-048-80C018050 | 48" x 50' | 1/8" | 166 lbs |